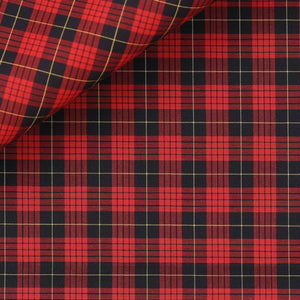 Durrants is Thomas Mason's collection of historical Scottish Tartans, the quintessential rich colored designs worn by the clans of the Highlands since time immemorial. Durrants is a cool casual zephyr suitable for summer and autumn. 
Collar Choice: Medium spread collar or  button down collar

Cuff Choice: Button or  French Cuff

Interlining of Choice: Hard, Regular, Soft & Unlined

Pocket Upon Request

70/1 - 100 % Cotton by Thomas Mason Bespoke

Smoke M.O.P ( Mother of Pearl) buttons

Proudly Handcut & Made in Miami, FL.
Note:
As the order comes in, we make every garment to order therefore we do not offer a refund or exchange option.
It is essential that you follow our measurement guide to guarantee the desired results. I'm always available to  field any questions via email, text, or IG. Please do not hesitate to contact me for any sizing or general enquiries
Wash and care instructions:
Wash in cold water and hang dry. The more you send it to the dry cleaners or you put inside the dryer the more it will shrink.
Shipping:
We will always try to get your products to you as quickly as possible please allow up to 4 weeks for items to be shipped out once we have your measurements.